Online. 1 Year Part-time, 26 March to 12 November 2022
This part-time formation program takes a transformative approach to ministry formation. It focuses on the theory and practice of a contemplative and discerning approach to pastoral ministry. It is designed for lay ecclesial ministers, pastoral care practitioners, teachers and school principals, clergy, community and spiritual leaders, and others who are in positions of leadership in faith communities.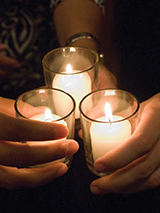 The program is available online via Zoom and is delivered outside of business hours. In 2022, the timetable consists of selected Thursday evenings, Saturdays, and a three-day Intensive during the school holidays. See the brochure for all class dates.
The program may be credited for 36 points toward a Diploma in Theology, Bachelor of Theology or Bachelor of Ministry through the University of Divinity. Fee-Help for Tuition fees in these awards is available to qualifying Australian citizens.
Heart of Life is currently seeking permission to have the Spiritual Leaders Program recognised by the Catholic Education Commission of Victoria (CECV) as acceptable professional learning hours towards: (a) gaining or maintaining CECV accreditation to teach in a Catholic school, and (b) gaining or maintaining CECV accreditation to teach Religious Education or lead in a Catholic school.
Please click here for the Spiritual Leaders page on our website, where you can also find the detailed brochure, testimonials and the application form.