Applications are open at the John Paul II Center for Interreligious Dialogue for the Russell Berrie Fellowship in Interreligious Studies for the 2022-23 academic year.
This Fellowship Program will welcome its 15th cohort of Russell Berrie Fellows to study at the Pontifical University of St. Thomas Aquinas (Angelicum). It is a one-year academic fellowship for students pursuing a Licentiate Degree in Theology (STL), with a specialization in Ecumenism and Dialogue, or earning a Diploma in Interreligious Studies. The application deadline is April 25, 2022.
The Berrie Fellowship is directed at clergy, religious, and members of the laity interested in becoming leaders in the field of interreligious dialogue. By providing 10 fellowship awards a year, this program aims to build bridges among Christian, Jewish, and other religious traditions by providing the next generation of religious leaders with a comprehensive understanding of, and dedication to, interfaith issues. Russell Berrie Fellows study at the Angelicum following the Faculty of Theology's curriculum that includes courses in Christian Anthropology, introductory courses to Judaism and other major world religions, as well as an Introduction to Principles of Ecumenical Dialogue and Principles of Interreligious Dialogue. Additionally, the Fellows participate in academic workshops outside of their university coursework and visit Israel for a 10-day academic seminar at the Shalom Hartman Institute and site visit to the sacred sites. Upon graduation, the Fellows enter our Network of JPII Leaders with access to various opportunities the John Paul II Center provides such as further education, mini-grants for practical initiatives to support dialogue in their communities, and networking with other organizations.
We hope that you will find this generous fellowship opportunity worthy of your attention and recommendation. We look forward to receiving many outstanding applications, hopefully some with your recommendation. We attach the Fellowship program brochure to this email and we'll be happy to deliver hard copies of this brochure at your request. For inquiries about our application process, interested candidates are asked to email us at berrie@iie.eu or visit our webpage iie.eu/berrie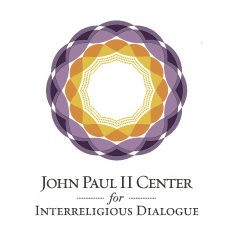 With gratitude from the JPII Center in Rome,
Elena Dini
Senior Program Manager
John Paul II Center for Interreligious Dialogue
Email: EDini@iie.org
Cell: +39 339 3229649
Web: jp2center.org