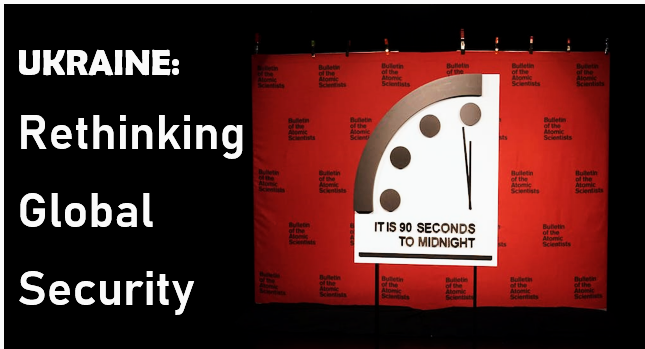 Every so often I connect with people to share ideas, articles, resources and details of projects and upcoming events on the defining issues of our time.
As you may know, last year, Professor Richard Falk, Dr Chandra Muzaffar and I, after much discussion and consultation, concluded that our troubled times call for a new, bold global initiative.
We first put out a call last August To All Who Care about Humanity and the Planet. The call was endorsed by 45 distinguished intellectuals and practitioners and has since received over 3,600 endorsements. You can access details of the call and the inspiring webinar that followed here.
We have now cut to the chase and named the initiative:
Saving Humanity and Planet Earth (SHAPE)
The name calls for thoughtful ambition not despair. Hence the theme of our next major event on Thursday 23 February 2023:
Ukraine — Rethinking Global Security
The aim is to explore the the wider lessons of the dangerous confrontation in Ukraine, and plot new pathways to a safer, just and sustainable world.
Richard Falk, Chandra Muzaffar and I will be joined by Prof Kishore Mahbubani, Dr Kate Hudson, and two insightful young voices: Wei Yu and Paulina Chan (details below). REGISTER HERE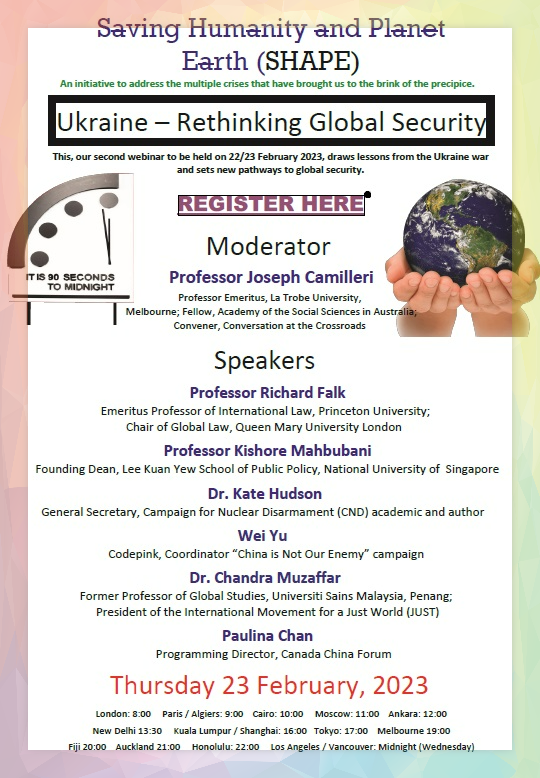 We extend a warm invitation to you, your friends and colleagues to join us for what should be a timely, in-depth and memorable conversation.
With best wishes for 2023.
Joseph Camilleri OAM, Emeritus Professor, La Trobe University                        
Fellow of the Academy of the Social Sciences in Australia