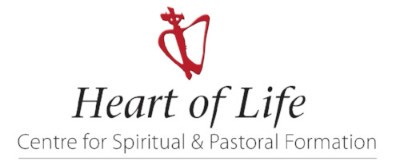 See What's On in our 2023 Program!
We are pleased to present Heart of Life's 2023 Program of courses and events.
 
Whether you're seeking to: undertake spiritual formation through one of our formation programs, participate in a 14-week seminar for professional and/or personal benefit, engage in a one-day spiritual exploration, or refresh your spirit over a couple of hours, we hope there is something in our program at Heart of Life for you!  

Bookings for our events are available through our new-look website – see below!

Also among our 2023 offerings is a professional development day offered in partnership with Kardia Formation, Living Well Centre and WellSpring Centre:  Masterclass: Spirituality & Conflict, presented by Irish theologian and poet, Pádraig Ó Tuama.  It will be held on Tuesday 9 May 2023, 9.30am-4pm at WellSpring Centre, 10 Y Street, Ashburton VIC. Places are limited.  Book now on Trybooking.

To support excellence in the Supervisors of Spiritual Directors, and as an extension of our Emmaus Supervision Program, Heart of Life has developed a professional development program, Emmaus +1: Supervision of Spiritual Directors.  It can be taken as 4 x Tuesdays in May, or a 4-day Intensive in August.  Read more on p6 of our Program.

Spiritual Direction and Supervision continue to be available through Heart of Life – in person or via Zoom – providing a discerning, compassionate and listening ear, attuned to God's Spirit in the encounter.

We look forward to welcoming you to Heart of Life in this our anniversary year!

Click here to download the 2023 Program.

   


Happy 40th Birthday to Us!
Today – 14 February 2023 – we celebrate 40 years of Heart of Life!

We celebrate Heart of Life's 40 years of offering spiritual and pastoral formation, spiritual enrichment programs, short reflection events and celebrations.  Through this formation, Heart of Life and its people have served and listened in a contemplative way to help people deepen their relationship with God, as they have undertaken professional development for their roles in ministry, or just taken time-out to refresh the spirit.

We are grateful to our founders, Brian Gallagher msc, Peter Malone msc and Sue Richardson pvbm, the Missionaries of the Sacred Heart, and everyone who has encouraged and supported Heart of Life along the way.

We are grateful to have had the opportunity to accompany so many on their spiritual journeys over the years. We are grateful to all those who have shared their lives with us – their joys and sorrows, their longings and dreams. We are grateful that they have gone on to impact the lives of countless others with their new-found gifts and vocations in different walks of life.

We are grateful to the many staff and volunteers over four decades who have brought their care, wisdom, dedication and love, to gently guide our programs and events. We are grateful to the administration team that work behind the scenes.

Most importantly of all, we are grateful to God.

Join us for our formal celebration of our 40 Years at the Feast of the Sacred Heart, Friday 16 June 2023, 11am-2pm (light lunch included).  We'll remind you in a future eNews.

Here's to the next 40 years!
 


Our New Website! 

We've refreshed our look – check us out online here!
 
Bookings: Our 2023 Program is available for download from our website here.
Bookings for our seminars and reflection events are encouraged up to one week
before the start date (subject to places still being available) through our website, email to secretary@heartoflife.melbourne or telephone (03) 9890 1101.
Copyright © Heart of Life
All rights reserved.

Our mailing address is:
Heart of Life Centre for Spiritual & Pastoral Formation
Kildara Centre, Rear 41 Stanhope Street, Malvern VIC 3144
Australia
Tel:  (+61 3) 9890 1101
Web:  heartoflife.melbourne