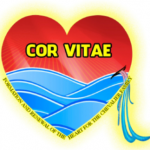 Fr. Carl Tranter MSC presented the Cor Vitae Renewal Program session on 4th June 2022 on Zoom.
The Topic was "Charism and Spirituality" and in his presentation he looks at Charism, Spirit, and Mission according to the mind and heart of Fr. Jules Chevalier. The PowerPoint of his presentation is made available here for your interest and study.
RENEW – REDISCOVER – REFRESH
Cor Vitae is the Ongoing Formation project of the Tri-Congregations of the Missionaries of the Sacred Heart (MSC), the Daughters of Our Lady of the Sacred Heart (FDNSC) and Missionary Sisters of the Most Sacred Heart (MSC) for Asia – Pacific Islands – Australia and Africa (APA – Africa). It was established to provide ongoing formation, in our Chevalier Family Charism, Heart Spirituality and Mission, and does this through the running of programs for Renewal, Formation and meeting other ongoing formation needs of the Chevalier Family. 
For the year 2022, Cor Vitae has offered a Renewal Course running from May to June every Thursday using ZOOM technology.   The participants are members of the Tri-Congregations or of the Chevalier Family including Laity from Asia – Pacific Islands – Australia and Africa.